System information
(24) tenKsolar 410 watt modules manufactured in Bloomington, MN.
9840 total watts of electricity = 9.84 kilowatts (kW)
Minnesota has an average of 4.6 peak sun hours per day (more than Houston, Texas, and almost as much as Miami, Florida!)
9.84 kW x 4.6 hours = 45 kWh/day (avg)
There are losses due to wiring and the inverter, so we might expect 85% of this or 38 kWh/day (~ 1140 kWh/month) produced by this solar system in full sun
Real-Time Usage Report
I have an eGauge Data Logger connected to my electrical panel that monitors all electricity generated and consumed in real time:
Solar Panel Specifications
RAIS® XT-A PV Module 410WP by tenKsolar (PDF)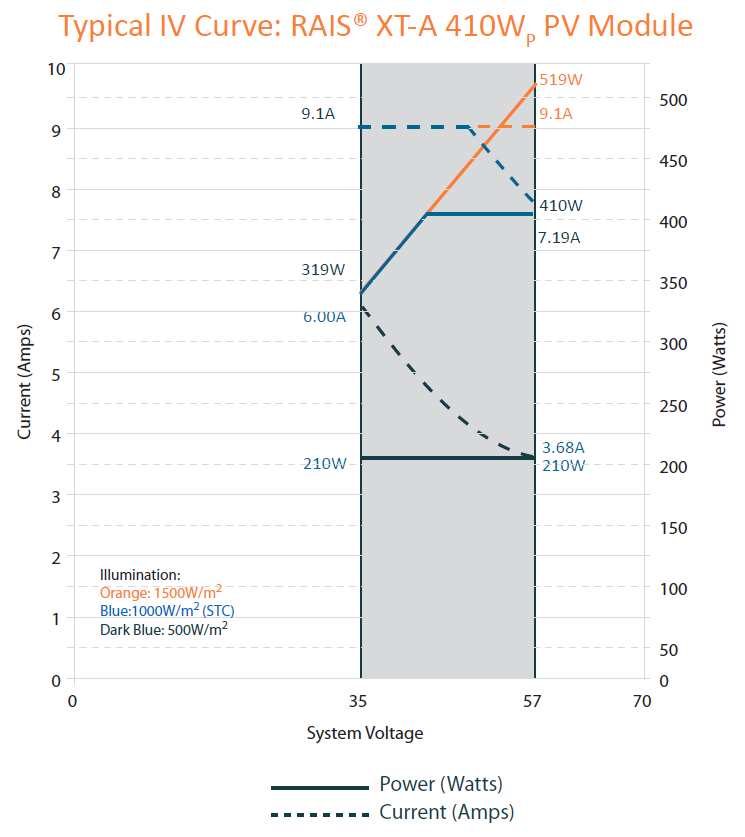 Power Output at STC (Pmax)
410WP
Power Tolerance
+/- 3%
Cell Type
Polycrystalline Silicon
Number of Cells
192 Half Cells
Glass
3.2mm Tempered Glass
Maximum Current Output
9.1A
Maximum Series Fuse Rating
80A
DC Voltage Output
35V Minimum / 57V Maximum
Ground Fault Detect
Integrated (Compatible w/ Inverter GFDI)
Internal Ground Fault Limit
500 mA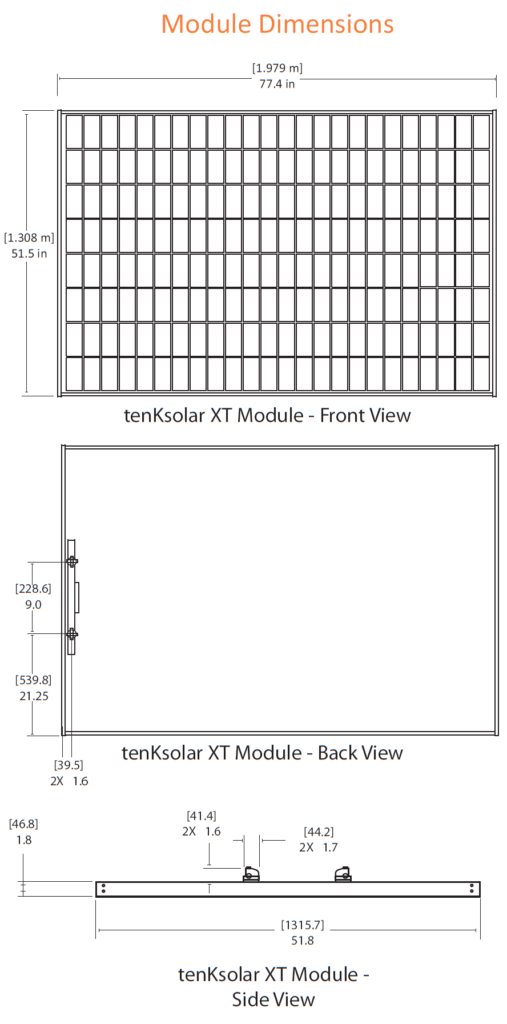 Frame Size (not including optional extensions)
77.4" x 51" (1979mm x 1295mm)
Frame / Background
Silver / White
Backsheet Material
PET Covered Aluminum
Bypass Diodes
None
Ambient Operating Temperature Range
-40°F to 185°F (-40°C to 85°C)
Module NOCT (Nominal Operating Cell Temperature)
109°F (43°C)
Temperature Coefficient
-0.46% / °C
Static Load Capacity
50 psf / 2400 Pa
Hail Resistance
Direct 1" impact at 52mph (84kph)
Weight
71 lbs (32.2 kgs)
Certifications
UL 1703/UL 1741
IEC 61215 EN 61730
Warranty
12 Year Limited Product Warranty, 25 Year Linear Power Warranty:
3% Power Degradation First Year, 0.2% Linear Degradation per year after First Year
Inverter Bus Specifications
240V RAIS Inverter Bus (PDF)
3 buses:
2 x 3500W (seven 500W microinverters each)
1 x 2500W (five 500W microinverters)
Microinverter Specifications
APS YC500A-K Microinverter (PDF)
Input Data (DC)
Maximum Input Voltage
55V
Maximum Input Current
24A
Output Data (AC)
Rated Output Power
500W
Maximum Output Current – 240V
2.08A
Maximum Output Current – 208V
2.4A
Nominal Output Voltage/Range – 240V
211-264V*
Nominal Output Voltage/Range – 208V
183-233V*
Nominal Output Frequency/Range
60Hz / 59.3-60.5Hz*
Power Factor
> 0.99
Total Harmonic Distortion
< 3%
Maximum Units Per Branch
7 per 20A / 9 per 25A breaker
Efficiency
Peak Efficiency
95.5%
CEC Weighted Efficiency
94.5%
Nominal MPP Tracking Efficiency
99.0%
Mechanical Data
Storage Temperature Range
-40ºF to +185ºF (-40ºC to +85ºC)
Operating Temperature Range (Ambient)
-40ºF to +149ºF (-40ºC to +65ºC)
Operating Temperature Range (Internal)
-40ºF to +185ºF (-40ºC to +85ºC)
Dimensions (WxHxD)
7.9" x 6.3" x 1.1"
Weight
5.5 lbs (2.5kg)
Enclosure Rating
NEMA 3R
Cooling
Natural Convection
Features & Compliance
Communication
Power line
Design Lifetime
25 years
Emissions & Immunity (EMC) Compliance
FCC PART 15, ANSI C63.4 2003, ICES-003
Safety Class Compliance
UL 1741 , CSA C22.2, No. 107.1-01
Grid Connection Compliance
IEEE 1547
* Programmable per customer and utility requirements. All settings UL approved.
Solar Panel Mounting Specifications
QuickMount PV (PDF)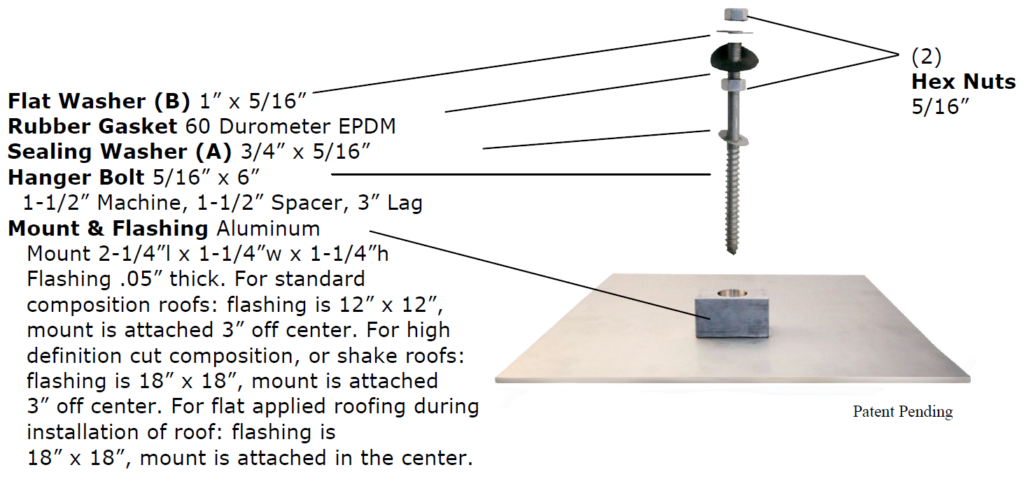 Roof Mounting Specifications
Series 100 Roof Mount System by SnapNrack (PDF)
Up to 3" of height adjustability at roof connection
Waterproof full-metal flashing at each roof penetration
Works on virtually all composition and tile roofs
Single wrench size for all system hardware
Configures easily as low profile or tilt (0-60 Degrees)
Rail channels provide excellent wire management
Energy Meter Data-Logger Specifications
eGuage (PDF)
Installed by
Powerfully Green
11451 Oregon Ave. N.
Champlin, MN 55316
Phone: 763-438-1976
Fax: 612-605-5748
Email: info@PowerfullyGreen.com